Last night while feeding Evelyn (nope...still not sleeping through the night!), I heard a chirping sound. After a minute, I realized it was one of our smoke detectors. Ev was having a hard time getting back to sleep, so I stood in her doorway trying to figure out which one it was. It sounded muffled, so I figured it was the one in our attic. Instead of crawling up there at 1am, I texted Dan so that we would remember to change it in the morning.
I woke up this morning to this sight...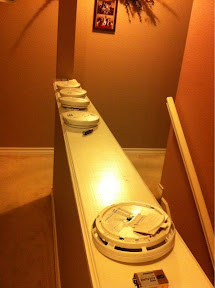 Apparently it woke Dan up (I was easily back to sleep), so he had gotten up to figure it out. He stood beneath every smoke detector waiting for the chirp...nothing. So he took them all down and changed all of their batteries, but could still hear the chirping...muffled...and not coming from any of these. After searching the garage, the attic, and considering crawling into the air ducts Jack Bauer style...he figured out it was in the utility room cabinet. Sorry honey, I put that in there when we changed the one in Ev's room to the voice kind...and apparently forgot to remove the battery. Maybe I'll get you your weapons drawer for Christmas for being such a good sport!